Six well-deserving individuals were inducted into the LHS Hall of Honor during the Class of 2023 Commencement Service.
Brian Bredensteiner (Legacy)
Dr. Allison Dolak (Alumni)
Kevin Hearn (Teacher/Staff)
Dave Zilz (Teacher/Staff)
To nominate an individual for future consideration, use the online form.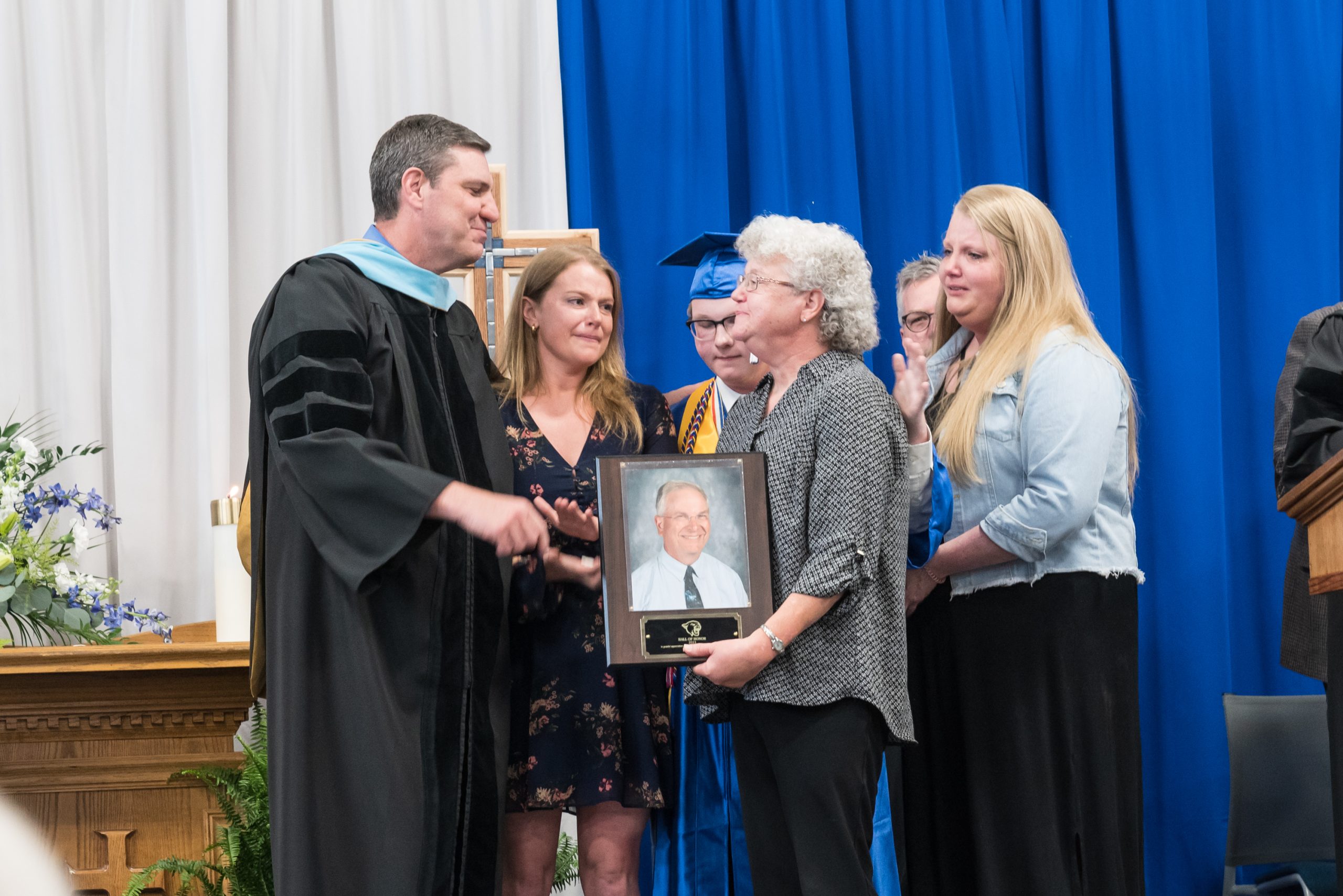 The Hall of Honor is organized as a way of maintaining the rich heritage and tradition at Lutheran High School. In addition, it will serve as a means of recognizing, preserving, and honoring the school leaders, athletes, teachers, and individuals who have made significant contributions to LHS programs and the community at large. The Hall of Honor honors the contributions and accomplishments of these individuals who are worthy of recognition as examples for others to emulate.
Individuals from the following categories may be nominated. The nominee, if an alumnus/alumna, must have graduated at least ten years ago.
ALUMNUS/ALUMNA: Any person who distinguished himself/herself after graduation from Lutheran High School. The candidate must have graduated from LHS ten or more years prior to being nominated.
ATHLETE: Any person who distinguished himself/herself in the field of athletics while a student at Lutheran High School or after graduation. Criteria considerations should include All-District/Conference/State recognition and participation in collegiate and/or professional athletics.
COACH/SPONSOR: Any person with at least ten years of service to Lutheran High School and ten years of overall experience. The nominee may be active or inactive to be eligible for consideration. Criteria consideration should be based on accomplishments that merit recognition from the significant contributions to a program at Lutheran High School.
LEGACY: An individual who has made outstanding contributions to programs at Lutheran High School or the community at large. No time requirement exists to be considered for this category.
The nominee must have had an outstanding career, which has resulted in a direct or significant impact at LHS in one of the aforementioned categories.
2012: Gordon Bredow, Harry & Nancy Cromer, Lew Fruend, Ron Holtmeier, Bob & Marti Price, Dr. Bernie Tonjes, Brad Walters, Dave Wulff
2013: Al Mahnken, Bob Storm
2014: Jim & Sue Bastian, Dr. Mark Hingst, Joe & Jen Koenig, Randy Boettler
2016: Stan Beumer, Randy Ferber, Amber Medrano, Dr. Matt Nissing
2017: Ryan Bredow, Tim Brackman, Gretchen Jameson, Erin Luttschwager, Jeff & Sandy Von Deylen
2018: Bob Carter, Kathy Chapin, Jim Droste
2019: Dr. Jennifer Fruend, Larry Marty, John Prange, David Schlesselmann
2020: Alan Birk, Rev. Doug Gaunt, Aaron Hill, Kristin (Frasca) Simone
2021: Dave Viviano, Ernestine Wilson
2022: Mike & Debbie Franklin, Armand Haak, Rachel (Travis) Harvil, Sheryl Kluesner, Ted Kuegele, Matt Raithel