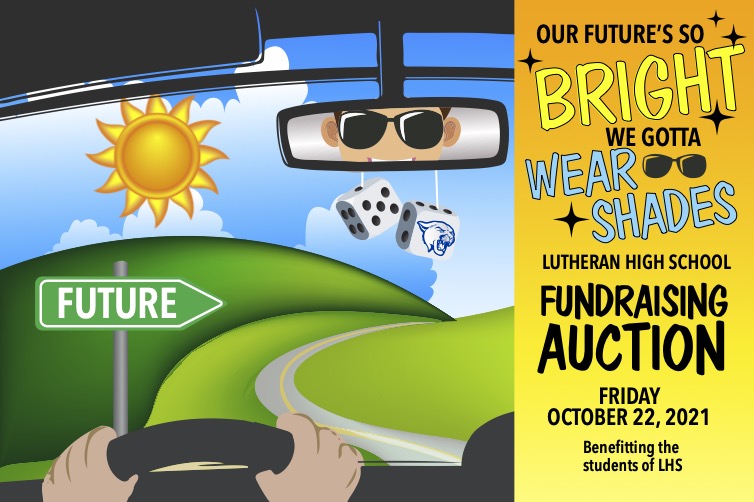 Things are going great, and they're only getting better
We're doing all right, getting good grades
Our future's so bright, we gotta wear shades!
Make plans now to join us on Friday, October 22, for our Annual LHS Auction Fundraising Dinner at Old Hickory Country Club to celebrate our past, embrace our present, and provide for our future!
The annual auction is our single largest fundraising event of the year, but it is also a true celebration of LHS! It is also a great chance for you to reconnect with friends, get involved and to share your Time, Talent, and Treasure in support of the students at LHS today and tomorrow. 
We need you to make the 2021 auction our best yet – please consider assisting in one or more of the following ways:
Become a Sponsor or Purchase an Ad.  Honor a friend or family member (possibly an LHS Alumnus) or promote your business through sponsorships ranging from $1,000-$3,000. Each level offers varying benefits including special seating and advertising.  New this year: feature your business logo on the back of the bid cards or on table tents on each table in the room! Additional information on sponsorship opportunities is available via the link below.
Donate an Item(s) to be Auctioned. Interesting, unique, high-quality items are needed to make the auction successful. Items such as the following have proven to be in high demand in prior auctions:

Use of Vacation Homes
Authenticated and/or signed Sports and Entertainment Collectibles
Professional and Collegiate Sports Tickets
Jewelry or Unique Home Furnishings
Golf or Hunting Experiences
Tech: Apple Items, Gaming Systems, Beats, Fitbits
Concert and Theatre Tickets
Wine valued at $25 or greater, Microbrewery 6-packs
Something simpler?  How about a gift card to your favorite restaurant!!!
All donations are tax-deductible, with all donors recognized in the auction catalog. ALL DONATIONS ARE DUE SEPTEMBER 24, 2021
Your participation as an attendee, donor, or volunteer (or better yet – as all 3 of these) is key to the success of this event. We encourage you to invite friends to get a table together and spread the word . . .
Our Future's so Bright, We Gotta Wear Shades!
The 2021 Auction Committee
Reservations due by Monday, October 11!
Tickets are $125/each, unless purchased before the early bird special.  Early bird pricing is $100/person.  

Early bird pricing for a full table of 10  is $1,000.  This is good until Friday, October 1.

Get your tables together early!   Use the form below to make your reservation today!
Thank you for all of your support!
ALL SPOTS ARE FILLED!
Registration is now closed for the 2021 Golf Outing because we are at full capacity. The 2021 Golf Outing is Saturday, August 7, 2021, at The Falls Golf Club in O'Fallon:
11:30 am: Driving range opens
Noon: Registration opens; lunch is served
1:00 pm: Shotgun start
6:00 pm: (tournament/weather dependent): Dinner
If you would still like to support this event, consider being a sponsor! 
For more information, contact Doug Kuhlmann, Assistant Head of School, or Matt Birk, Committee Chairperson.
On Saturday, February 27, 2021, our LHS Booster Club challenges you to celebrate the 2021 Lutheran High School Trivia Night VIRTUAL STYLE! We can't get 40 tables people into Zion Lutheran Church Fellowship Hall, but you can still have a great time from the safety of your home and support LHS!
Program begins aka "doors open" at 6:00 pm; trivia starts at 7:00
Bid on silent auction items and baskets
Host a "Trivia Night Party" at your Home or play as a family on Zoom
Registration is available online. Cost is $40/person.
Gather a group, reserve your table in your HOME now, and enjoy a fun night with the LHS community! We look forward to seeing you AND YOUR TEAM on Zoom AS PART OF OUR WALL OF CONTESTANTS!!