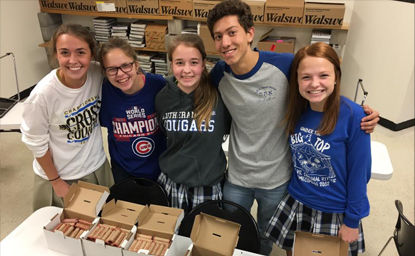 Explore the employment opportunities available at Lutheran High School!
7 LHS faculty members are also LHS alumni!
Faculty
None available at this time
Staff
Outreach Coordinator (Part Time - 15 Hours per Week)
This role will support the goals, programs, and activities of the Advancement and Communications team (social media, event planning, campaigns, and special projects). Submit your resume and letter of interest to Dr. Doug Kuhlmann (DKuhlmann@lhssc.org) by Wednesday, August 24
Coaching
LHS is currently accepting applications for the following part-time coaching positions in the 2022 - 2023 school year:
JV Boys Soccer (Fall Sport)
Freshmen Boys Basketball (Winter Sport)
C-Team Boys Golf (Spring Sport)
JV Boys Volleyball (Spring Sport)
Varsity Head Coach Coed Track & Field (Spring Sport)
Boys Tennis (Spring Sport)
Interested candidates should submit a Letter of Interest and resume' to Mr. Melvin Bethany, Director of Activities, via Bethany@lhssc.org. 
Any questions should be directed to Mr. Bethany via email or office phone (636-928-5100).