The LHS tennis team's motto is "To God be the glory!". This motto is based on Psalm 86:12, which says, "I will praise you, Lord my God, with all my heart; I will glorify your name forever." The greatest gift that we can give God is to express our love and gratitude to Him. We will use the platform of tennis at LHS to learn about God, recognize Him in our lives, and give glory to His name. The values and lessons learned through competing on the LHS tennis team will equip you to give glory to God as you live a life of Christian service.
In sight of the gospel of Jesus Christ, our coaching staff is devoted to creating the best possible environment for our tennis players to succeed. This environment is rooted in the understanding that each person is created as a son and daughter of God that is fearfully and wonderfully made (Psalm 139: 14). This is met by having a clear purpose, developing deep trust, ensuring high standards, maintaining consistent accountability, and sharing tools that empower our athletes to succeed on and off the tennis court.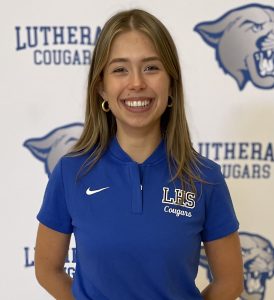 Coach Smith is entering her first season as the Lutheran High School Cougars Head Tennis Coach. She also operates as Research Specialist and teaches Computer Applications at Lutheran High School. Smith graduated from Concordia University Chicago in 2018 with a bachelor's degree in both english and history. During her collegiate career, she played both singles and doubles on her tennis team. She is thrilled to start her coaching career at LHS. She currently lives in University City and enjoys friends and family.