At Lutheran High School, we believe golf is an extension of the classroom, and we teach Christ-like principles as together we learn character, integrity and honesty while this great game teaches us life lessons.  The LHS golf program has been rich in excellence since the first Cougar teams took to the course. Since that time, boys golf teams have won three district championships, finished second in state twice and won the 2009 and 2013 state tournaments.  Perhaps the most impressive accomplishment of the golf program is the young men who graduate and serve our communities.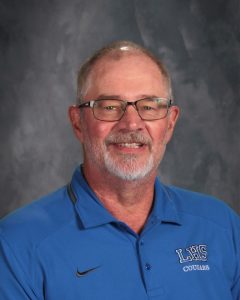 Coach Holtmeier began his coaching tenure at Springfield Lutheran in 1981. He moved to Chicago in 1982 and began a two year stint at Luther East before moving to Orlando, Florida in 1984 to coach an AAU program in addition to Lutheran High School in Orlando. In 1985 he and his wife Sherry made the move to Lutheran St. Charles where he has coached ever since.In his 27 years at LHS, he has amassed a record of 314 wins and 214 losses, with his teams best finish ever being in 2002-2003, when his varsity girls team was 30-2 and finished 3rd in the MSHSAA Final Four. He followed that season with two more great seasons, finishing 27-2 and 28-4 en route to a 2nd place finish in the MSHSAA playoffs in 2005. In 2009, he made the move from the girls program to the boys.
Coach Holtmeier feels particularly blessed by his family: his wife Sherry, who has had to pick up the slack when the delicate balance between coaching and family time was challenged. And from his kids: Kylie, John, Aaron & his two grandchildren.
STATE FINAL FOUR APPEARANCES
First: 2009, 2013
Second: 2010, 2012
DISTRICT CHAMPIONSHIPS

2008, 2009, 2013