The mission of the LHS football team is "Building Champions for Life" to produce a well rounded student-athlete, grounded in faith-based principles.  A "Champion's Curriculum" ensures that young men develop into great mentors, husbands, fathers and leaders in their community. Many coaches spend a large amount of time focusing on the physical aspect of the game. While physical preparation in important, the LHS football coaches feel it is just as important to dedicate time to the mental and spiritual aspect of the game and how it relates to life.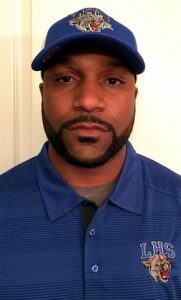 Coach Harris has a rich background in football.  He is a 1998 graduate of Downingtown High School in Pennsylvania.  During that time, Arlen was a record setting Running Back and Kick Returner who led his team to three Chest-Mont League Championships and two PIAA State Championships, in which he broke Tony Dorsett's scoring and rushing record as a Junior.  In addition, he has won   ….
many major awards during his four years as a varsity player and finished his ranking as the ESPN #3 running back in the country. 
Arlen then attended the University of Virginia to continue his football career and majored in art design.  After missing his last year of eligibility in college, Arlen still received an invitation to play in the Las Vegas Paradise Bowl where Tony Romo (Cowboys) was his quarterback and he walked away with MVP honors of the game.   Arlen was then able to follow his dreams to the National Football League as a St. Louis Ram. He played in what is considered to be one of the most complex and high powered offenses (Greatest Show on Turf) in NFL history led by Coach Mike Martz.  Arlen's first two seasons with the St. Louis Rams, he was the second leading rusher behind Hall Of Famer Marshall Faulk.  Arlen then went on to play with the Detroit Lions and the Atlanta Falcons.  In 2009, due to a career ending knee injury, Arlen was forced to retire after being credited 6 NFL seasons. 
Following his professional experiences, Coach Harris served in a variety of coaching roles, at several high schools: Downingtown High School, Trinity Catholic High School, Christian Brothers College High School.  Coach Harris also began training athletes and running camps when he and his family moved back to the St. Louis Area.  With his professional experience and performance certification, he began Runit performance where he trains local athletes.  Coach Harris is widely considered to be one of the best performance trainers and running back specific coaches available in the St. Louis area. 
Lutheran High School believes that Coach Harris will bring a Christian demeanor, positive attitude, strong work ethic and passionate personality which will leave a lasting impact on the Lutheran High football program and the greater community. Coach Harris will help capitalize on the program's past successes, as well as launching new beginnings full of Christian excellence, teamwork and success for the future.  Lutheran High is thrilled to have such a qualified and exceptional coach leading the program.
Missouri State Champions - Class 2 - 2021
AAA Conference Champions – 2020, 2021
District Championships – 2019, 2021
2021 All-State Team: Aaron Coffey, Talan Chandler, A.J. Harris, Jr., Ayden Harris, Kaleb Mays, Aiden McLean, Michael Parr, Ashtin Rustemeyer, Dawson Tallent, Jaydon Wannstadt, Charles Young
2021 Class 2 Player of the Year: A.J. Harris, Jr.
2021 Class 2 Coach of the Year: Arlen Harris