The cross country program at LHS is centered around growing young people in their faith in Jesus Christ.  Daily prayer, team devotions and a team retreat every season help to keep the focus on the author and perfecto of our faith, Jesus.  Strength in faith fosters continued physical and emotional development for students that leads them to be successful athletes and members of the LHS community.  LHS cross country has been represented at the MSHSAA state meet for 12 consecutive years including 3 individual state championships, 21 individual All-State finishes, and 5 Top 4 finishes as a team. The past 11 years have also seen the cross country program win 9 AAA Conference team championships and 7 MSHSAA District team championships as well as numerous individual Conference and District Champions. The Boys team finished 2nd in the 2020 MSHSAA State Championships, and 3rd in the 2021 Championships, with Caleb Lind, Class of 2022, capturing the Class 3 Individual State Championship.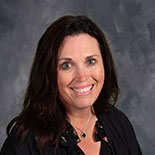 LHS Alumnus, Elizabeth Fruend (ne Burch), is excited to be a part of the Cougar XC coaching staff. Elizabeth currently teaches Geography, Physical Education, and Health, at LHS. Elizabeth is the faculty representative for Cougar Archery, and is a head coach for the LHS Track and Field team….
We appreciate her competitive attitude, with a smile. She is active personally, having run in 12 half marathons, and continues to run before most of us are awake early in the mornings. Elizabeth is a graduate of Concordia University Wisconsin, where she was a four -year varsity starter for the women's basketball team and an all-conference player.  Elizabeth is married to Rick who is also an alumni of Lutheran High, they have three children – Joshua and Julia are both LHS alumni, and Travis, a member of the LHS Class of 2021.
State Final Four Appearances
2nd Place: 2020
3rd Place: 2008, 2012, 2021
4th Place: 2007, 2010, 2011
District Championships
2002, 2003, 2007, 2008, 2010, 2011, 2012, 2013, 2017, 2020, 2021, 2022