The Sapphires Dance Team  exists to promote and spread school pride through dance and performances. At various events, both on and off campus, the Sapphires will encourage and boost the pride and the traditions of LHS through the unification of the students, staff, alumni, and fans.  Above all, the Sapphires will provide encouraging, enthusiastic team support and develop a culture of good sportsmanship and God-pleasing activities for LHS.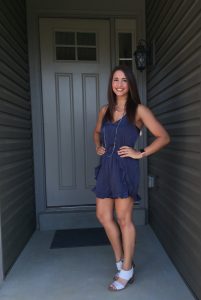 Alexandra Milakis is entering her third season as the Lutheran High School Cougars Head Coach of the Sapphires.  Ms. Milakis is a recent graduate from Lindenwood University where she earned her Masters of Business Administration. Alexandra is an alumni of Lindenwood's Lion Line Dance Team and previously was a member of the University of Memphis Pom Squad….
Alexandra brings over 20 years of dance training and teaching that will be used to expand the dance team program.  She looks forward to sharing her passion with the students of Lutheran High School.  
2021 - 2022 Sapphires Dance to Titles in the Missouri Dance Team Association Championships!
- Pom Routine . . . 2022 Champions!
- Lyrical Routine . . . Back-to-Back 2021 & 2022 Champions!
The 2021-2022 Sapphires shared a vision and a spirit: "We dance for ourselves--We dance for our teammates--We dance for family and friends--We dance because we LOVE to dance!" To that statement they can now add, "We dance because we are the best in the state!"
In February 2020, at the Missouri State Championships, the Sapphires Dance Team captured 2nd place in Jazz dance and 3rd place in Pom routine, resulting in an overall 5th place finish.