Links/Sponsors
---
Sponsors
The Lutheran High Athletic program is blessed to have many sponsors supporting our athletic programs.  Please use the links below to return the favor.
Excel Sports and Physical Therapy
Jack Sailor from Excel Sports and Physical Therapy is serving as Lutheran High's Athletic Trainer. Jack is availbale to diagnose injuries, assist with pulled muscles, tape ankles, etc.  If your son/daughter is ever injured, please contact Jack directly:
jacksailor34@yahoo.com
Cell – (314) 307-4197
 Little Caeser's Pizza – 636-922-0113

Goodcents Subs – 636-441-6888
It's A Better Burger – 636-922-7706
Signature Medical Group is a multi-specialty, private-practice physician group. The Signature Sports Medicine and Orthopedic Division is comprised of more than 40 orthopedic physicians serving the St. Louis area. Our practices include Mid County Orthopaedic Surgery & Sports Medicine, Premier Care Orthopedics and Sports Medicine, Tesson Ferry Spine and Orthopedic Center and Jefferson County Orthopedic and Sports Medicine. As the most comprehensive subspecialty orthopedic group in the St. Louis area, Signature Medical Group is committed to excellence by providing the highest quality of orthopedic care possible. Our physicians specialize in orthopedic treatment including fracture care, joint reconstruction, stabilization of ligaments, tendons and muscle injuries including arthroscopic surgical repair. For more information, please contact Geoff Witt at 314-791-3889 or visit http://www.signaturemedicalgroup.com/SportsMedicine.aspx
Click to read about our Team Physician Dr. Scott Zehnder.
St. Charles Hardwoods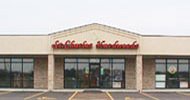 St. Charles / St. Peters Store
3909 Mid Rivers Mall Drive
St. Peters, MO 63376
(636) 926-2000 
Links
  Debbie Kertz, M.Photog.,Cr.,Certified Ehlmann Photography, Inc. 349 Round Tower East Drive St. Charles, MO  63304 (636) 724-4519  toll-free (888)724-4555 cell (314)412-7170 ehlmannphoto@gmail.com